Sugar Stars
A downloadable Story for Windows
Story:

As Reyna's hands grazed the waters of Konpeito bay, she replayed what she knew about herself before her memories come to an end. Who WAS she? Where was she? Why was she here? Now thanks to her new friends, Lawana and Mallow, Reyna can finally start life anew helping out at their Sugar Star Cafe. But is the world she's stumbled upon as wonderful as it seems?
Features:

Ship any of the main three with any of the five main Sugar Stars
Make cakes, manage the cafe and help run a successful business
Mine, Fish, Forage and solve puzzles to advance the plot
Follow a linear story about the Sugar Stars and their allies and try to help your friends that have found themselves in trouble
About:
Sugar Stars is a cafe / dessert themed life sim I started for YuriJam. Unfortunately, due to personal issues, I put what I had together between three days so it's super untested, rough and buggy! I hope I can fix it up soon ;-;
Please keep in mind that you're bound to encounter a glitch or some dry points but I promise I'll fix those up right away!
Characters: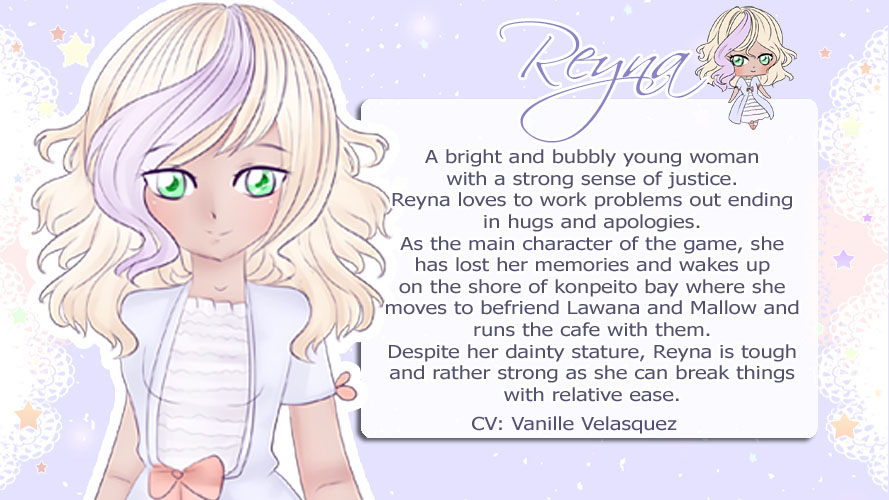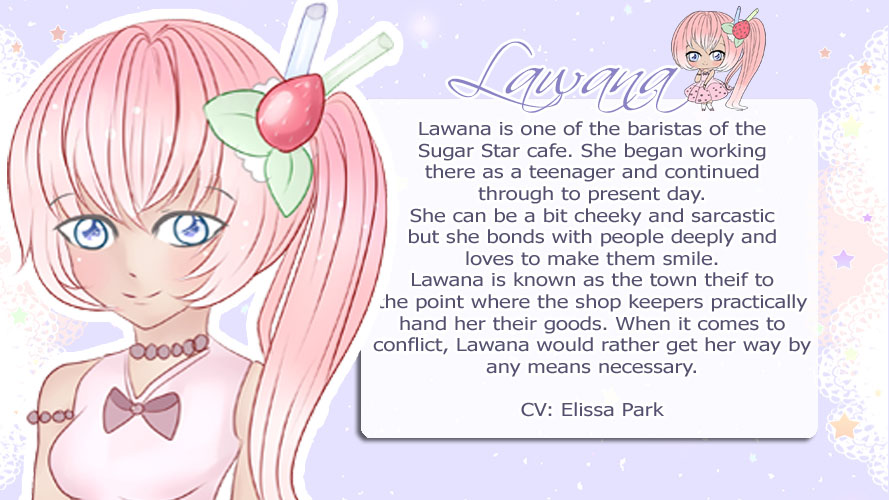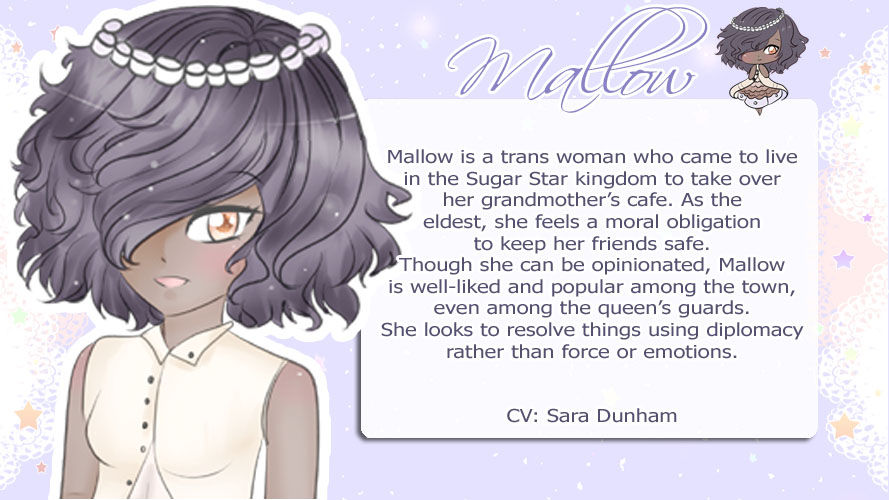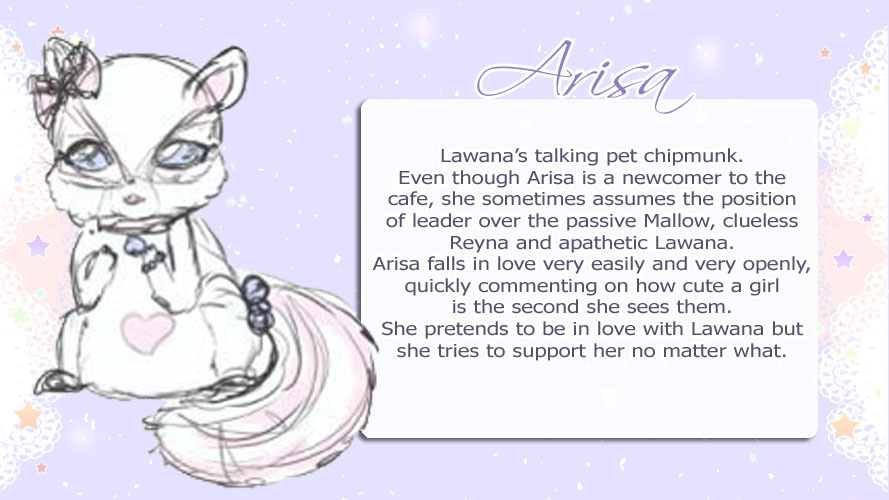 Voice Credits:
Reyna: Vanille Velasquez
Lawana: Elissa Park
Mallow: Sara Dunham
Credits:
Artwork: Cheyenne Victory
Menu + Cooking Coding: Cheyenne Victory
Writing: Cheyenne Victory
Tiles: Enterbrain, Sithjester, Cheyenne Victory + Others (Coming soon)
Music + Code:

Tom Vian – Gen
Kevin MacLeod (incompetech.com)
- Arcadia
- The curtain rises
- Teddy bear waltz
- Summer day
- Continue life
SoundImage
Big Ace - Transparency
Brewmeister - pic behind menu code
Near Fantastica - Anti-Lag
CMS original - Tigurus Fay, Mjshi
Moghunter - Animated title

Ultimate Jesus - Draw shadow

Robot79796 + eharper256 + CCOA - Day time system

Zer0- Advanced weather

Game_Guy- Item Storage

CCOA - UMS

| | |
| --- | --- |
| Published | Nov 01, 2017 |
| Status | In development |
| Platforms | Windows |
| Release date | Oct 31, 2017 |
| Author | Rooftops Revolution |
| Genre | Simulation |
| Made with | RPG Maker |
| Tags | Anime, Cute, Dating Sim, Female Protagonist, LGBT, Life Simulation, pastel, RPG Maker, voice-acting, yuri |
| Average session | About an hour |
| Languages | English |
| Inputs | Keyboard |
| Accessibility | Subtitles, Interactive tutorial |
Install instructions
- Unzip the file
- Click Lawana to get started!
- Be warned of glitches-- save often.
Download
Download
Sugar Stars Demo V1.1.zip
196 MB
Comments
Log in with itch.io to leave a comment.
I'm so sorry to hear that! May I ask what's happening when you try to download it? I'm afraid I haven't heard many other people having trouble so I'm not quite sure if it's the game or itch.io or internet connection or something else that's causing that for you. ;-;
Can this be entitled as a visual novel?
Hi there!
Sugar Stars isn't a visual novel. It has a similar format for the cutscenes, but it is classified as a non-combat RPG, meaning you do actually walk around and complete tasks~ I do have some visual novels released, but sadly S*s is more a walk around game than anything else.
Thanks for your comment <3
This is so cute. 10/10. I love it so much. Ran into the cooking glitch but figured it out. Can't wait to play the full game.
Oh gosh ;; You're the sweetest ahhhh Sorry about the cooking glitch! The S*s file is on an external so as soon as I pull it up I'll update it to fix it <3 Thank you so much for the kind words ;-;
This game looks super cute and sweet and seems like something I would love, but I can't event get past tutorial, when I get a task to take 2x sugar and 1x egg and to make a cake all I can do in that room is choose bake from a memory and then cook and when I do that game crashes with message "Script 'Cooking Window #Memory' line 113: NameError occurred. undefined local variable or method 'cookstart' for #<Scene_Cooking:0x89ec7a8>" Tried a couple of different things but there doesen't seem to be a way around it, I hope you fix those errors, I would really like to play this game.
Additionally, I didn't quite get it from your description, but is this a demo version or a full game alpha/beta version?

OH YIIKES! Thanks for letting me know!! I'll give it a try and see what's going on?? That's so strange ahh I'll take a look at it now and see what's happening oh dear.
Sorry I was a bit unclear ahh I lost most of the gamejam months due to something that happened so I legitimately put together a demo in the last three days hehe Which is why it's so buggy. It's an alpha demo haha I'm so sorry you encountered that error ahhh Let me see if I can fix it ;; Thank you for letting me know!
AHH I FIGURED OUT WHY IT'S HAPPENING OH GOD. It's because I never ended up completely finishing the menu so it got really confusing omg I'm so sorry! I didn't even put in the dialogue that explains how to navigate I'm so sorry ahh
What you have to do is click the first blank slot on the cooking window and select an ingredient from your inventory. The reason you're getting the error is that you're pressing 'cook' without adding ingredients which is something I never even thought of! I'll be sure to add an exception if someone clicks that by accident and I'll clarify the menu a bit! Sorry about that ;;
OH MY this is ADORABLE~ I haven't managed to get very far since it's bugging out a bit but I can't wait till it's all done and polished 'cause what I did see was diabetically sweet. The VA's did a great job and I am so in love with Reyna [I think fluffballs have become my new go-to type...] I like Reyna's take on the whole amnesia being a time of reinvention instead of confusion 'cause it really adds to her optimistic side. Oh and I got a good chuckle out of the whole heirloom mix up. Food puns ftw.

One thing: For the next version can there be a little info about what keys do what. I had no idea how to navigate around the pages... @_@ just a few words at the bottom or a tutorial page at the start menu would help me sooosossosooo much. >.<

AHHHHH THANK YOU SO MUCH!
I'm sorry it's been bugging ;o; (As I said I legitimately put it together in three days and playtested it like... twice so A+ Gamedev LOL ) May I ask what's causing the trouble? I'll try to fix it up <3 I'm so sorry it's given you trouble!
I'm so, so glad you like Reyna ;o; Thank you so much for the sweet comment :heart:
YES ABSOLUTELY! AHH I intended to put that in but ran out of time ;; I had a TINY thing in the "Read Me" but I realized afterwards that I don't think it'll be very helpful ahhh It's totally my fault because I realized I forgot to add "Exit" to all of the menus x.x RIP I'm heading to class for the time being but I'll try to write in a little control guide on the actual Itch.io page ahh I'm so sorry that caused you so much trouble ;;
Thank you for such a sweet comment <3 I'll try to fix it up tonight <3
It was the same problem as the above comment. With the cook from recipe section.
Don't be sorry, I am just glad you got to finish the jam. Life can be so unpredictable but kudos for getting something out. And don't worry it's not rush as long as you planned to put it in I'm more than happy to wait. The jam 's over, you can take your time now~ But I'll be waiting eagerly for this to be finished <3

And if you need a beta tester then hmu!

I just started playing and it's SOOO cute! I love Mallow and Reyna's voice, super super super cute.
This game is just a big overload of cute, ahahha;;;
WOEIFJOEWJFFJ ????? I'M SO GLAD AHHH
You were an absolute superstar though. You rocked Lawana so hard?? Everyone who's spoken to me has commented on how much they loved your voice and your characterization of her! agh you guys really made this game <3 thank you so, so much for being part of it ;-;