Eternal Dawn
A downloadable game for Windows, macOS, and Linux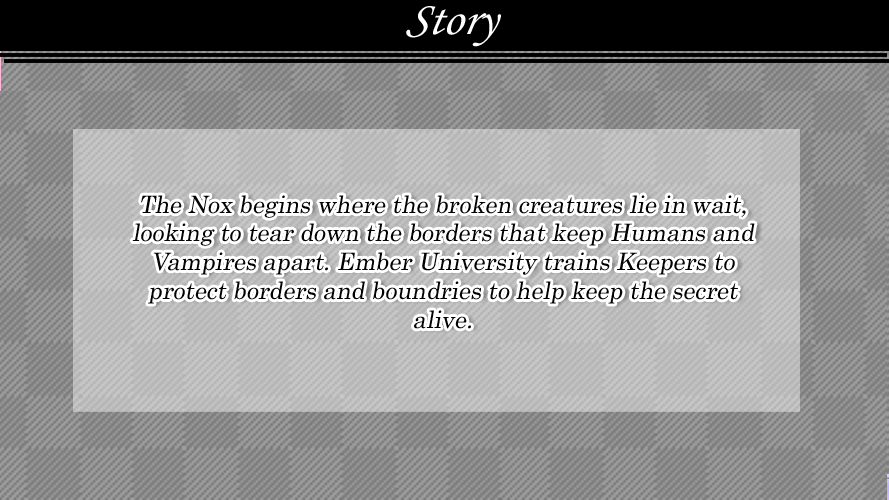 About:

This is a short, rough visual novel for NaNoRenO based off of my very first story that was recently lost forever. The opening scene is the only thing to be regarded as canon. The entire ending will be re-done and re-written eventually with the exception of a few parts. This project was made to cope with the loss of what once was my coping mechanism. It's 100% a personal, passion project and should be seen as such.
Features:
Plan your week! Spar with friends, hangout or just study away!
Battle with your friends, each having new skills to offer!
Two romantic interests for each heroine... or have them fall for each other!
Play through 10 weeks of the school year
General Warning:
I had only intended to release the opening scene but got bored so this happened. Please regard anything beyond as incomplete, unedited, raw or even non-canon... Especially the final scene. Consider the battling to be a mini-game and story-telling mechanic.

Warnings:

Implied abuse, Self-Esteem, Mild alcohol References, Flashing lights
The opening scene does not depict a real event in Alice's life. It is to be viewed entirely as symbolic.

Things that will be changed:
Voice Levels
More dynamic battles
Add in the final broken
Final scene complete overhaul
CGs!!
More romance scenes
More hang out scenes
No glitches
Stop seeing Kane's first romance event twice
Add relationship indicators
Fix those credits
Add stats goals and indicators.
Tips:

Each character has different skills to teach you.
In order to win someone over, you must view their final event.
Sparring gives you the highest relationship boosts if you win.
You can romance one person for Alice and one for Anna. Spamming them will do you a world of good
| | |
| --- | --- |
| Status | In development |
| Platforms | Windows, macOS, Linux |
| Author | Rooftops Revolution |
| Genre | Visual Novel, Role Playing |
| Tags | Anime, Female Protagonist, LGBT, Multiple Endings, Otome, Romance, Vampire, Voice Acting |
Install instructions
Please read this before asking in the comments. :) It helps keep us on the same page! Keep in mind that the point beyond the demo is extremely rough. You've been warned.
Why didn't you finish?

This gamejam is to make something in a month-- finished or not. I decided to do a demo because I have a sick cat and a job that required me to code for 4 hours a day.
Why aren't there CGs?
I only had a month lol CGs are coming soon!
The music is too loud!
Be sure to fiddle with options first! The downside of using public domain music is that I don't have time to change it.
I encountered a glitch, now what?
Please tell me ASAP! If it crashed, clicking 'ignore' will temporarily fix the error.
Will Riley ever be eligible?
Perhaps in the future. I didn't think about it in time.
Is there blood in this game?
Not so far. This game is pretty light hearted and the vampire plot hasn't been explored very deeply yet.
Bella?! Alice?! Vampires?! Is this Twilight?!
I've never read it, never seen it~! The names are from my childhood.
Why are there gaps in voice acting in otherwise fully voiced scenes?
There are many reasons. Please bare with it for the time being <3
Download